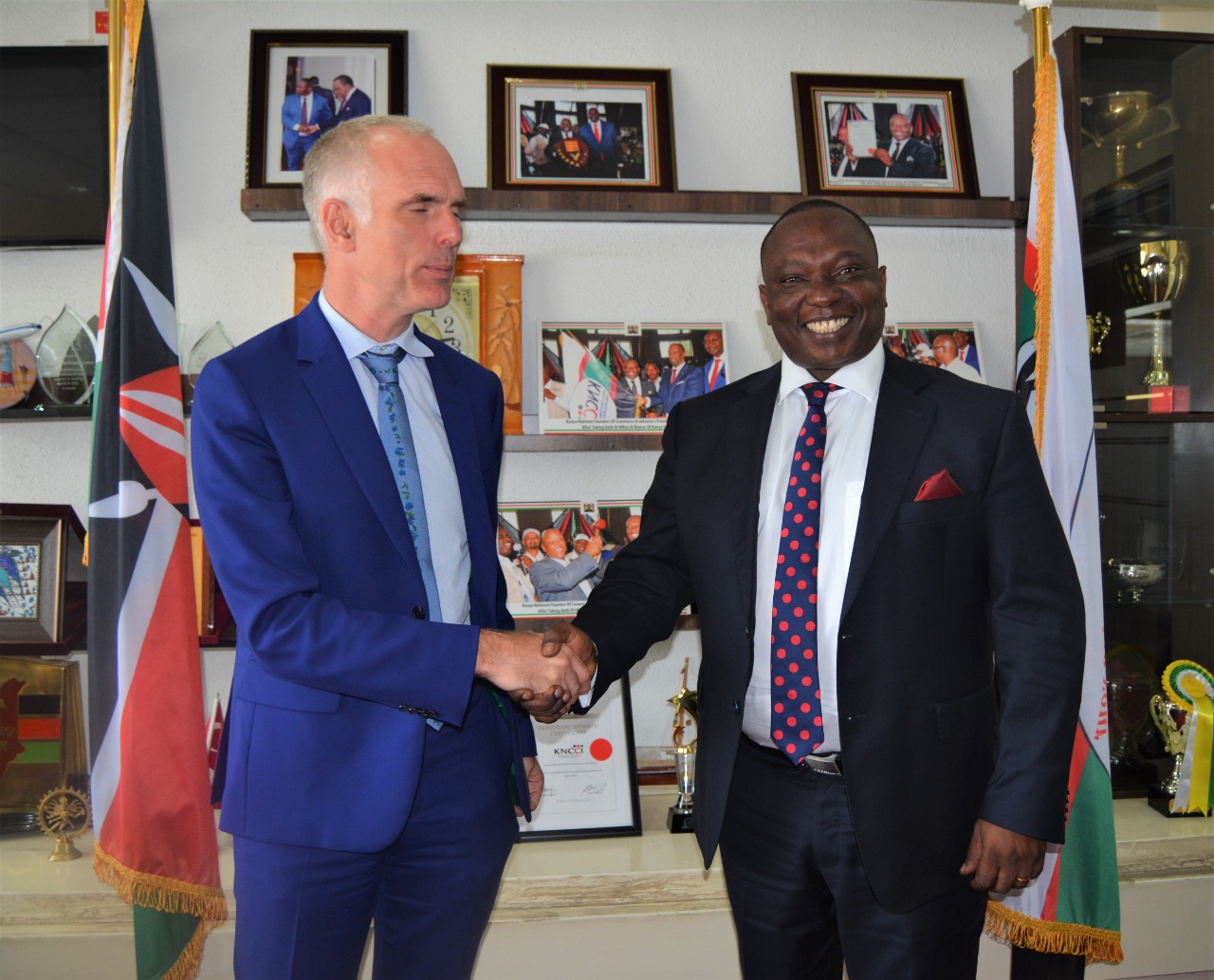 KNCCI OFFICIALS MEETS EU AMBASSADOR TO KENYA
The EU Ambassador to Kenya Mr.Simon Mordue on 20th November, 2019 paid a courtesy call to KNCCI HQs and held discussions with the Chamber President Mr. Richard Ngatia, Chamber 2nd Vice president Fatma Elmaawy and Chamber CEO Ms. Angela Ndambuki.  The discussions centered on how best they can strengthen trade cooperation between the European Union and Kenya.
The European Union is the biggest in the world for Kenya's exports and also a major source of funding for regional security, investment and financial support for Kenya's development and major partner in bilateral development.
The Ambassador stated that the European Union funds up to 25 million Euros of grants   projects that are entirely private sector to support the promotion and development of renewable energy, climate change and energy sectors in Kenya.
"The EU has many ways to support private sector and blending these opportunities can leverage 1.5 Billion Euros to invest in Kenya annually to develop Kenya's sectors more so those touching on the Big4Agenda.'' Said Ambassador Moude.
On his side, the Chamber president Mr. Richard Ngatia urged the EU to partner with the Chamber on the proposed SMEs policy making process to achieve more SME friendly regulatory and policy environment.
"The Chamber is ready to work together with the EU to support key investments and industrialization agenda in key areas such as agribusiness and agro processing, ICT, infrastructure and energy". Said Mr. Nga'tia.
The Ambassador stated that he  has been visiting various counties in Kenya to follow up on the EU funded projects in Laikipia, Kwale and Nakuru and every time he visit these counties he insist on visiting the local Chambers.  One thing that caught his attention is that none of the counties had clue on the EU funded projects that are currently going on in these counties.
On this note, he requested that the Chamber be the central contact of receiving information from the EU and disseminate the same to the regional Chambers.
The Chamber CEO Ms. Angela Ndambuki assured the Ambassador that a technical committee will be formed to address these challenges.  She invited the Ambassador to the upcoming Chamber National Governing Council on 3rd of December, 2019 where all the County Chairmen and Vice chairmen will be in attendance and use this platform to inform them of the EU projects that are currently ongoing in these counties.
The Chamber 2nd Vice president Fatma Elmaawy urged the Ambassador to support the Chamber County enterprise investments and trade initiative in promoting sustainable development.